go to AC 25
go to AC 27
Akela's Council 26
Everything Clicks at AC 26
August 10-14, 2010 at Camp Maple Dell
Cindy Gagon - Cubmaster
Staff List

| | | |
| --- | --- | --- |
| Name | Staff Position | Original course and Den |
| Cliff Jensen | Volunteer Advisor | AC 4 - Sioux - Brown |
| Cindy Gagon | Cubmaster | AC 13 - Cheyenne - Purple |
| Kellie Malin | Assistant Cubmaster Activity | AC 10 - Cheyenne - Purple |
| Garrett Winn | Assistant Cubmaster Supply | AC 24 - Paiute - Yellow |
| Annette Newsom | Assistant Cubmaster Supply | AC 15 - Cherokee - Red |
| VaLayne Ostler | Pack Trainer | AC 22 - Cheyenne - Purple |
| Bobbette White | Apache (blue) Den Leader | AC 24 - Apache - Blue |
| Deb Watts Brown | Cherokee (red) Den Leader | AC 21 - Cheyenne - Purple |
| Stephanie Meldrum | Cheyenne (purple) Den Leader | AC 18 - Paiute - Yellow |
| Stephanie Peck | Mohawk (green) Den Leader | AC 16 - Cherokee - Red |
| K.C. Hunt | Paiute (yellow) Den Leader | AC 25 - Paiute - Yellow |
| Annaleis Smith | Shawnee (orange) Den Leader | AC 23 - Shawnee - Orange |
| Arla Otten | Trading Post | AC 4 - Cheyenne - Purple |
| Karole Scott | Resource & Medical | AC 22 - Mohawk - Green |
| Julie Perkins | Kitchen Coordinator | AC 24 - Apache - Blue |
| Darin Bartholomew | Assistant Kitchen Staff | AC 25 - Cherokee - Red |
| Mary Perkins | Assistant Kitchen Staff | AC 25 - Paiute - Yellow |
| | | |
| Nicole Lemon | Craft Specialist | AC 22 - Cheyenne - Purple |
| Stephanie Peck | Webelos Specialist | AC 16 - Cherokee - Red |
| Cliff Jensen | Star Gazing | AC 4 - Sioux - Brown |
| David Nielsen | Baden-Powell Presentation | AC 20 - Navajo - Turquoise |

Participant List (41)

| | | | |
| --- | --- | --- | --- |
| Den | Name | City | District |
| Apache | Jay Barfuss | Randlett | King's Peak |
| Apache | Rose Freytag | Springville | Rock Canyon |
| Apache | Denise Jamsa | Salem | Blackhawk |
| Apache | Lillian Reynaud | Genola | Mt. Nebo |
| Apache | Becky Stoneman | Richfield | Fishlake |
| Apache | Jennifer Thomas | Lehi | Pony Express |
| Apache | Nancy Willison | Spanish Fork | Blackhawk |
| | | | |
| Cherokee | Kat Bentley | Hurricane | Zion |
| Cherokee | Autumn Christensen | Provo | Rock Canyon |
| Cherokee | Lynn Gardner | Highland | Alpine |
| Cherokee | Janet Geary | Huntington | Buckhorn |
| Cherokee | Rodney Jensen | Spanish Fork | Blackhawk |
| Cherokee | Kristi Kennington | Roosevelt | King's Peak |
| Cherokee | Michaun Torgersen | American Fork | Silverlake |
| | | | |
| Cheyenne | Daisha Bagshaw | Salem | Blackhawk |
| Cheyenne | Doug Doane | Genola | Mt. Nebo |
| Cheyenne | Sharon Law | Provo | Fort Utah |
| Cheyenne | Marlene Lee | Springville | Hobble Creek |
| Cheyenne | Barbara Hulet | Leeds | Zion |
| Cheyenne | Janis Harold | Genola | Mt. Nebo |
| | | | |
| Mohawk | Josh Chappell | Spanish Fork | Blackhawk |
| Mohawk | Gwyn Franson | Highland | Alpine |
| Mohawk | Angela Merrick | Saratoga Springs | Pony Express |
| Mohawk | Lorena Norris | Pleasant Grove | Battle Creek |
| Mohawk | Gloria Ruiz | Provo | Rock Canyon |
| Mohawk | Liz Sly | Salem | Blackhawk |
| Mohawk | Stephanie Stevens | Alpine | Alpine |
| | | | |
| Paiute | Sheryl DeNaughel | Salem | Blackhawk |
| Paiute | Brenda Gillie | Spanish Fork | Diamond Fork |
| Paiute | Eileen Lisonbee | Santaquin | Mt. Nebo |
| Paiute | April Merrell | Roosevelt | King's Peak |
| Paiute | Joe Perkins | Myton | King's Peak |
| Paiute | Melanie Thorpe | Springville | Hobble Creek |
| Paiute | Janis Brinkerhoff | Fairview | Sanpete |
| | | | |
| Shawnee | Cammy Brinkerhoff | Salem | Blackhawk |
| Shawnee | Ryan Cashin | Hurricane | Zion |
| Shawnee | Mary Halvorson | Springville | Hobble Creek |
| Shawnee | Belinda Larson | Genola | Mt. Nebo |
| Shawnee | Heidi Jo Stegall | La Point | King's Peak |
| Shawnee | Ruth Wagstaff | Provo | Rock Canyon |
| Shawnee | Elaine Shelley | Highland | Alpine |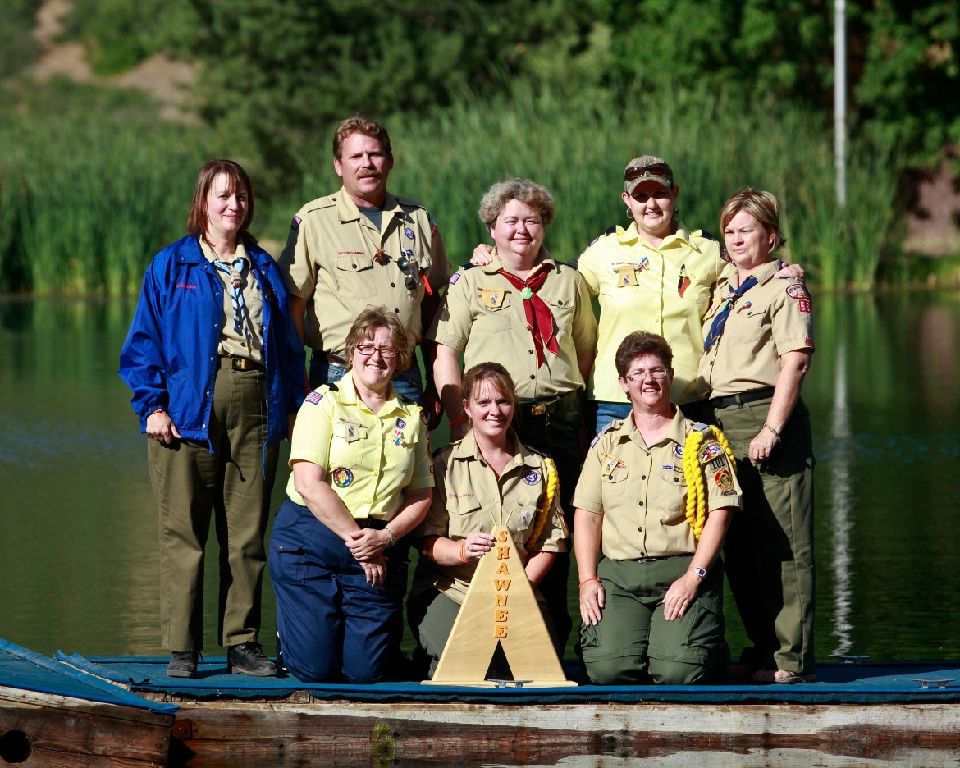 Explanation of Tawa
Akela's Council 26
Tawa is a Native American work meaning "sun" and for Akela's Council the meaning of tawa was changed to represent "son" to remind us of the sons (or boys) we work with, as leaders and parents in Cub Scouting.
I have chosen a young brave to represent my tawa for this course because my goal in Scouting is to encourage boys to become strong, dependable young men. I have 5 sons who have followed the path of their father and have grown and excelled in scouting. 3 of these young men are currently serving as Boy Scout leaders. This Indian brave represents one who is not afraid to look ahead to see the future and be an example for good to those who follow behind.
The horse in my tawa represents the steady forward motion toward enlightenment and knowledge.
The staff embellished with silver feathers represents each of my staff members at Akela's Council, strong and steadfast.
The feathers in the headdress represent each of the colors in our dens here at Akela's Council.
My Akela's Council den color is purple and as such has been placed at the center of the braves forehead, a reminder of the fond AC memories I carry with me.
My son Jeff is the designer for this tawa and that in itself holds special meaning to me.
I am so happy for this opportunity to serve with you at Akela's Council 26
Cindy Gagon
Visitors