go to AC 23
go to AC 25
Akela's Council 24
Learning and More at AC24
August 12-16, 2008 at Camp Maple Dell
Kathy Worthen - Cubmaster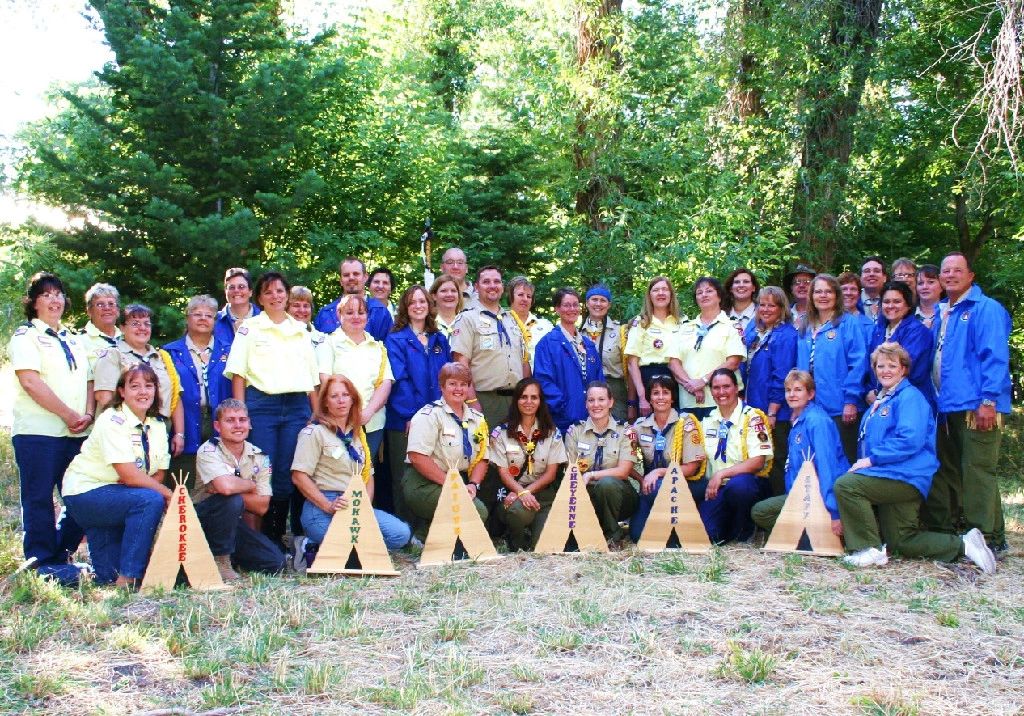 Staff List

| | | |
| --- | --- | --- |
| Name | Staff Position | Original course and Den |
| Connie Finlayson | Volunteer Advisor | AC 4 - Nez Pearce - Turquoise |
| Kathy Worthen | Cubmaster | AC 8 - Navajo - Turquoise |
| Allen Ewell | Assistant Cubmaster Activity | AC 10 - Shawnee - Orange |
| Scott Jewkes | Assistant Cubmaster Supply | AC 16 - Cheyenne - Purple |
| Cindy Gagon | Assistant Cubmaster Supply | AC 13 - Cheyenne - Purple |
| Debbie Summerhalder | Pack Trainer | AC 9 - Cheyenne - Purple |
| VaLayne Ostler | Apache (blue) Den Leader | AC 22 - Cheyenne - Purple |
| Gloria Fox | Cherokee (red) Den Leader | AC 16 - Cherokee - Red |
| Deb Watts Brown | Cheyenne (purple) Den Leader | AC 21 - Cheyenne - Purple |
| Joshua Brown | Mohawk (green) Den Leader | AC 23 - Mohawk - Green |
| Vickie Bennett | Paiute (yellow) Den Leader | AC 23 - Navajo - Turquois |
| Jessica Ribble | Trading Post | AC 20 - Apache - Blue |
| Stephanie Meldrum | Resource | AC 18 - Paiute - Yellow |
| Annette Newsom | Food Services | AC 15 - Cherokee - Red |
| Robert Lee | Food Services | AC 21 - Mohawk - Green |
| Annaleis Smith | Food Services | AC 23 - Shawnee - Orange |
| | | |
| Jackie Poulter | Craft Specialist | AC 12 - Cheyenne - Purple |
| Gayle Jensen | Webelos Specialist | AC 17 - Navajo - Turquoise |
| Doni Bufton | Star Gazing | AC 9 - Paiute - Yellow |
| David Nielsen | Baden-Powell Presentation | AC 20 - Navajo - Turquoise |
Participant List (22)

| | | |
| --- | --- | --- |
| Den | Name | City / District |
| Apache | Sandie Lester | Delta |
| Apache | Julie Perkins | Myton / King's Peak |
| Apache | Connie Taysom | Provo |
| Apache | Bobbette White | Holden / Millard |
| | | |
| Cherokee | Sonia Bartholomew | Springville |
| Cherokee | Faith Bingham | Payson |
| Cherokee | Tamara Dallin | Holden |
| Cherokee | Linda Nielson | Delta |
| Cherokee | Michael Willburn | Provo |
| | | |
| Cheyenne | Kevin Briggs | Payson |
| Cheyenne | KC Clark | Lindon |
| Cheyenne | Peggy Ann Evans | Roosevelt |
| Cheyenne | Tamra Ockey | Provo |
| Cheyenne | Sharlett Thompson | St. George |
| | | |
| Mohawk | Nancy Brimhall | Highland / Alpine |
| Mohawk | Samantha Miller | Delta |
| Mohawk | Mary Spann | Spanish Fork |
| Mohawk | KrisAna Willburn | Provo |
| | | |
| Paiute | Kanani Horito | Provo |
| Paiute | Paula Jewett | Elberta |
| Paiute | Jackie Loertscher | Bluebell |
| Paiute | Garrett Winn | Eagle Mountain |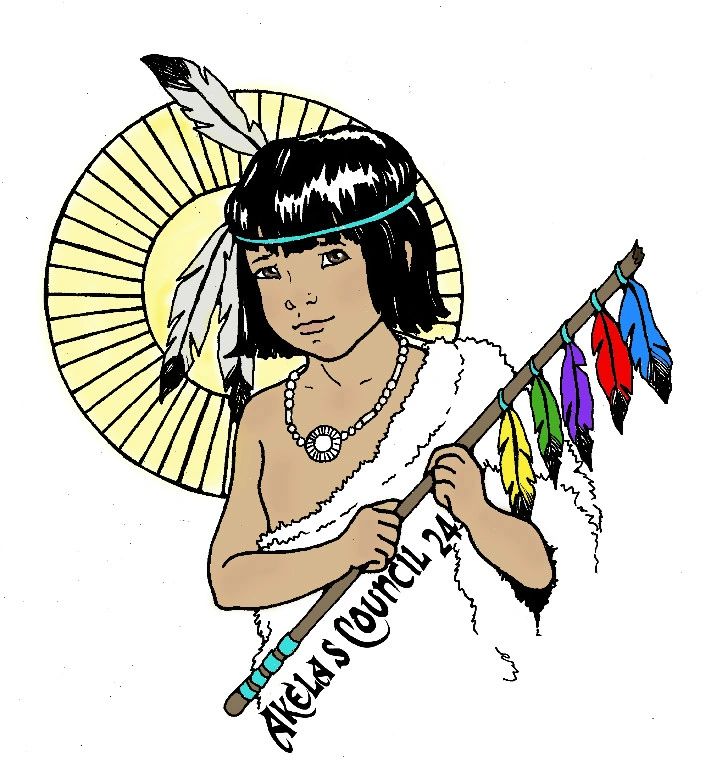 Explanation of Tawa
for Akela's Council 24
Tawa is an Indian word meaning "sun" and for Akela's Council the meaning of tawa was changed to represent "son" to remind us of the sons (or boys) we work with, as leaders and parents, in Cub Scouting. This is why I chose a young Native boy to represent Tawa.
In a Hopi creation legend Tawa is the Sun God who created life with Spider Woman. I drew even more symbolism from this line in the story:
"I am Tawa," sang the Sun God. "I am Light. I am Life. I am Father of all that shall ever come."
It reminded me of the great potential of the boys we serve as well as the symbol of 'light', and how the training we are providing to the leaders will bring them enlightenment and knowledge. Tawa stands before the sun and wears a symbolic sun on his necklace.
The feathers on the coup stick represent each of our dens: blue for Apache, red for Cherokee, purple for Cheyenne, green for Mohawk and yellow for Paiute. The feathers in his headdress represent our staff.
I took the liberty to add some personal symbolism as well. Turquoise will forever be my Akela's color so it was added as an accent color. The four bands of turquoise at the bottom of the coup stick represent my four children and the gratitude I have for all the leaders that have supported and nurtured them over the years.
Kathy Worthen,
Cubmaster AC 24

Visitors